This is for
Mom's Crazy Cooking Challenge
where each month she picks a theme (this month it is fudge) and the mission is to seek out a recipe of a fellow blogger's recipe them make and post what you make on the 7th of that month.
I wanted to try something a little different than the standard fudges I have made in the past and chose
Key Lime Fudge
from blogger
Shugary Sweets
and the only variation that I made was to use Cinnamon Toast Crunch Cereal instead of graham crackers, used non-stick coating spray on the pan and I didn't press them in the fudge as I didn't want them to get soggy.
It was super simple and we loved how it turned out...it had a lime taste without being overpowering, sort of like a fresh breeze of summer of a chilly day.
Recipe
2 - 11oz bags white chocolate morsels
14 oz can sweetened condensed milk
5 key limes
1/2 cup Cinnamon Toast Crunch Cereal or Graham Crackers
Non-stick coating spray
Wash the limes, roll lightly on a table to help get the juice loose (optional), zest the limes on a zester or grater (I used a grater), cut in half and juice the limes.
On low heat (I heated mine on the 1 1/2 mark on my stove) melt the sweetened condensed milk and both packages of the white chocolate chips until smooth - it took 18 minutes on my stove.
Once smooth, turn off heat and add the lime juice and the lime zest; mix thoroughly.
Spray a pan - I used a 9x12, but if you wanted thicker pieces you could use a smaller pan or a larger pan (or more than one) if you wanted to have thinner pieces. Pour the fudge into the pan.
Crush up 1/2 cup or more of Cinnamon Toast Crunch or graham cracker topping (leftovers are fun to use as an ice cream topping).
Sprinkle topping on the fudge and let set until cool (I cooled my off in the refrigerator) and then cut into squares to serve.
Please check out everyone else's fudge creations at the linkys below and a special thanks to Tina a Mom's Crazy Cooking Challenge for hosting and organizing this event, which is no small feat with the number of participants.
Next month's challenge is soup - if you are interesting in participating and do not already do so,
click here for more information.
Happy Holidays and God Bless :)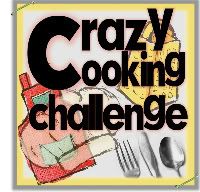 Mom's Crazy Cooking Challenge